There are no more items in your cart
Shipping

Free

Total

€0.00
Wooden Lego Doll
May 24, 2016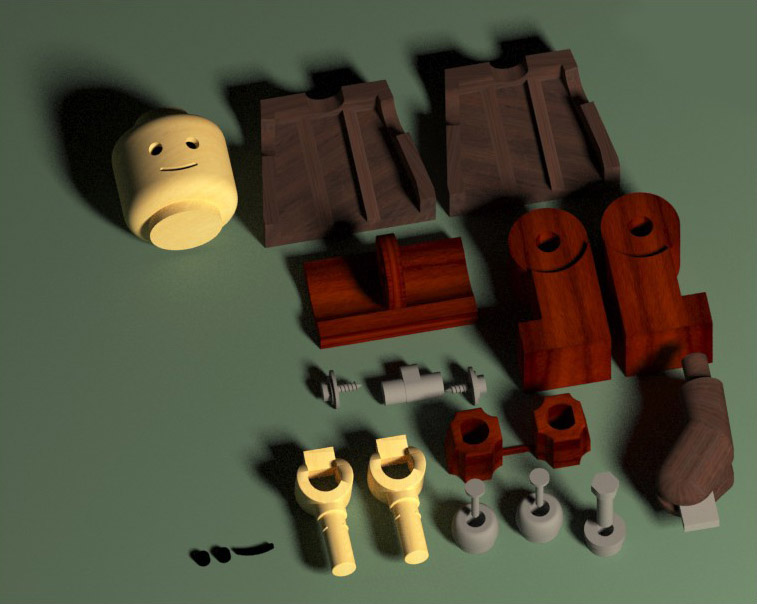 In this post I will describe how we made a wooden LEGO doll.

Project description
The idea to create a wooden LEGO doll came from several articles on the internet, other people that created one. We were immediately interested to create one ourselves. A detailed one with turnable arms and legs like with real LEGO. The final wooden man is 28 cm tall, 17 cm wide and 6.5 cm thick.
The parts
The design consists of several parts, designed in Autodesk 3D Studio Max. The 3d STL files are used to mill the parts from wood. The wood was bought at www.af.nl. We also used a 3D pinter to print a few parts. That is because we thought some parts would be better off in plastic to keep the roughness of the material.
The head and the hands are from basswood, the body and the arms from american nut, the legs from padouk. The mouth and eyes are made from ebony wood.
The whole process to create this wooden man took us about 60 hours, including the design in the cad program. 
Applications
Like I said we used 3D Studio Max to design the whole thing. Next to that we used Deskproto V6 and Cura 15 to 3D print (on an ultimaker without heated bed in PLA). The milling was done on an ICP 4030 from Isel Gmbh. The milling of the head, the arms and the hands was done with the 4th axis of the milling machine.
Post processing, assembly and the end result
All the wood was scrubbed with sandpaper and polished/rubbed with danish oil. There have been quite some setbacks, broken cutters, glue that remained on the wood, discoloration (the head became much darker than intended) and the worst was that the arms did not turn as easily as was thought before. Also, one of the arms had a crack. But all in all a successful outcome.
If you would like to make your own copy of the wooden lego man:

1) Please like our facebook page at https://www.facebook.com/woodandtools 
2) Mail us via info@woodtoolsanddeco.com to receive the STL files to make your own copy of the wooden man.
Deskproto.com published an article about our project at http://www.deskproto.com/gallery/legodoll.php